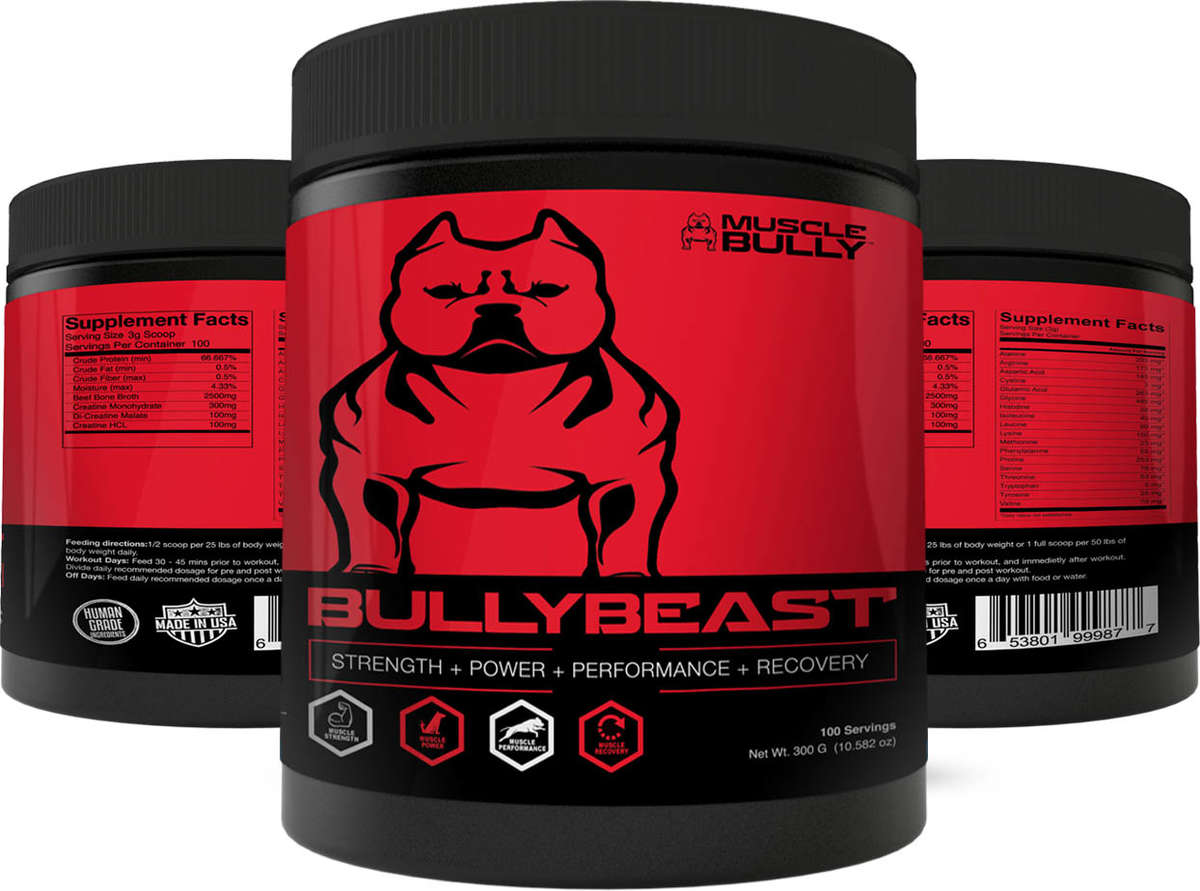 WHAT IS BULLY BEAST?

Bully Beast is a state-of-the-art formula that offers advanced nutritional support for muscle strength, power, performance and endurance. This cutting edge formula combines bone broth superfood protein with 3 high quality forms of creatine to prevent muscle breakdown and fatigue during high intense workouts. Fuel your Bully's body with key muscle building nutrients and unleash the Bully Beast!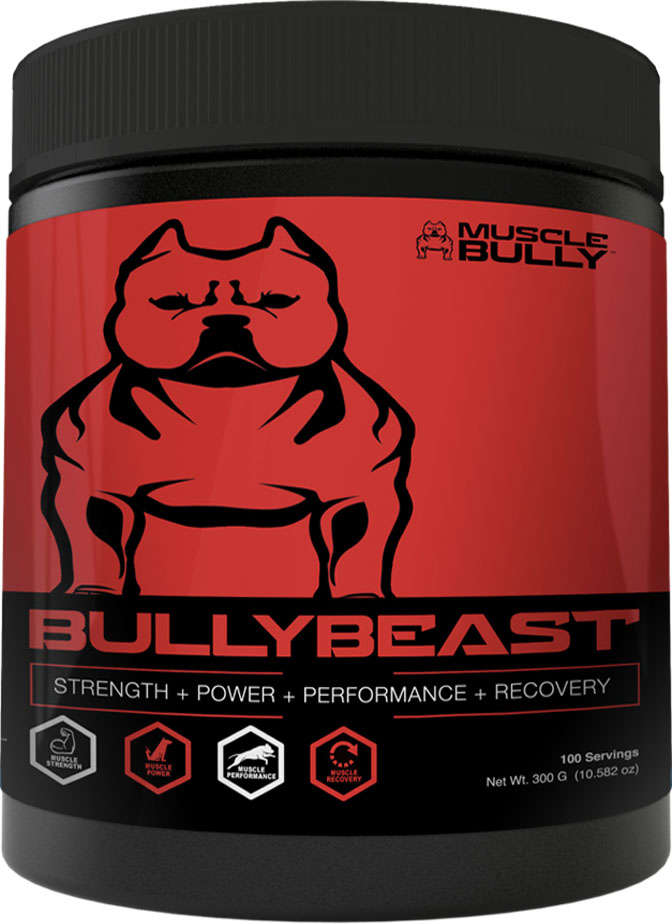 MUSCLE. POWER. PERFORMANCE.
HOW DOES CREATINE WORK?
Creatine is naturally found in foods like chicken, beef and fish. It's even produced naturally in the body mainly from the liver. It drives burst muscle contractions by fueling ATP (short for Adenosine Triphosphate, which are the energy molecules that store energy found in muscle). ATP contain 3 strongly bound phosphates.


When a phosphate breaks loose, energy is released. Creatine's job is to replenish the phosphates in the APT to keep them running. Our
supplemental dog creatine
increases the volume of creatine in the body to power APT thereby increasing your dog's workout stamina and helping them break down more muscle during workouts. During recovery your dog's body naturally rebuilds, repairs and creates more muscle fibers to create more muscle on your dogs body.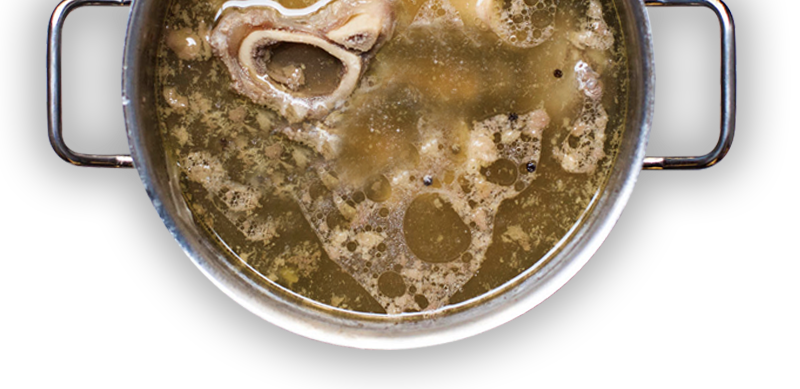 NOW CONTAINS BONE BROTH PROTEIN
2500 mg per scoop!
Bone broth for dogs is nutrient rich liquid made from boiling raw bones. It's made by boiling the bones for hours and extracting the rich college, minerals, vitamins and amino acids amongst other nutrients. Bone broth protein is great for joints, detoxing the liver, promoting a healthy gut, repairing skin and hair, boosting the immune system and even helps sooth a sick dog. It's packed with nutrients and makes a great healthy treat that dog's love to eat.
INGREDIENTS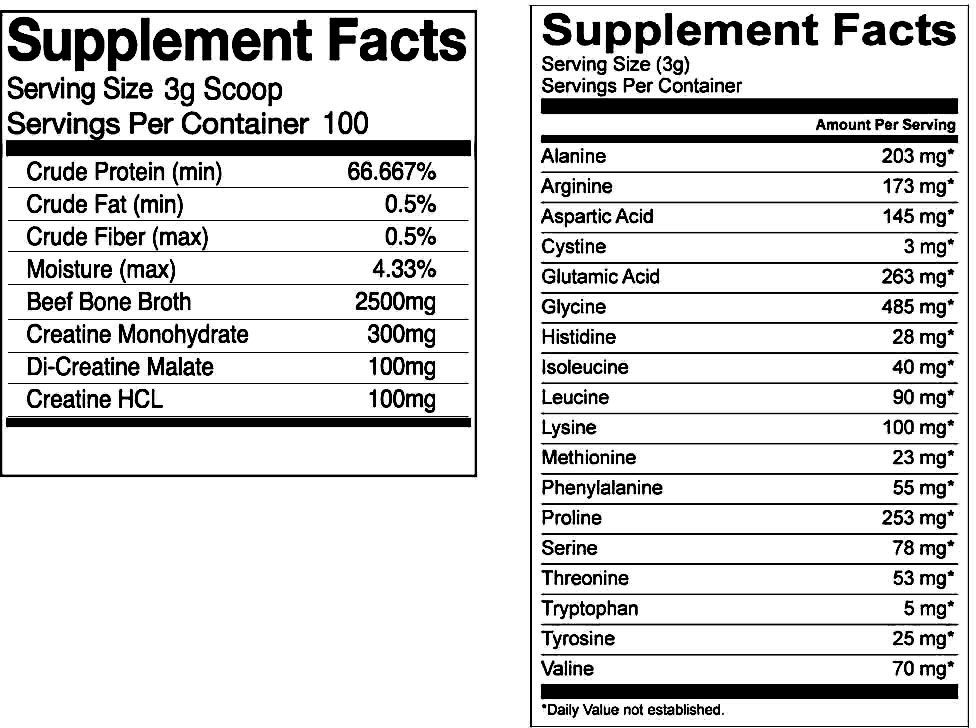 FAQ'S
Is creatine a steroid?
No. Creatine is naturally found in many foods we eat such as red meat and fish and doesn't alter hormones in the body. Creatine is natural, anabolic steroids are man-made substances.
Is creatine safe for my dog?


Yes. There has never been a proven case where a dog taking creatine has become seriously ill or death. And again creatine is naturally found in foods such as red meats and fish and even produced naturally by the body. Any false claims that state otherwise have no proven evidence that support their false claim. Feel free to do research on this yourself. If it wasn't safe, we wouldn't offer it! Many top trainers we work in sports and dock diving have shown powerful results in using it with their dog.
How To Use Creatine for Dogs? What's the proper dosage?


To ensure maximum deliverance of our creatine in your dog we recommend you follow our feeding directions on the label. This will ensure your dog is getting the appropriate amount in their diet. Avoid overtraining your dog. Have plenty of water near them at all times and ensure they get plenty of rest and breaks during workout.
Creatine for Dog Side Effects?

As with any supplement your dog takes either over-the-counter or veterinarian prescribed you should always look for signs. While there have been no reports in dogs, common side effects in humans taking creatine can be upset stomach, diarrhea, muscle cramping or dehydration (All have been very minor). To help avoid any possible issues make sure your dog has plenty of water at all times. Follow the recommended directions to ensure they are getting the correct amount suggested in your dog's normal diet.Our creatine for dogs comes in a powder form and contains 100 servings. Includes FREE Shipping Today!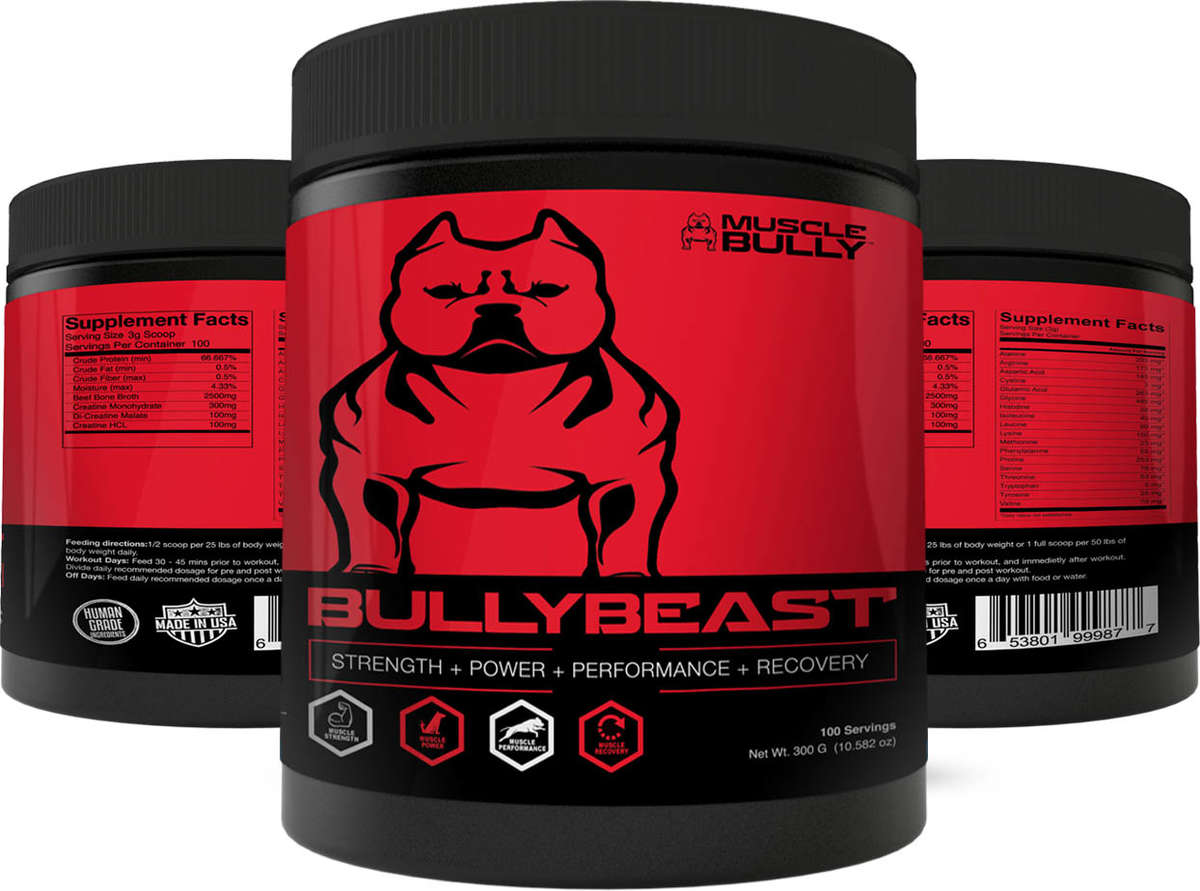 SAVE 20% OFF BULLY BEAST NOW!
Enter your email address below to receive a coupon for 20% off plus free shipping! For a limited time only.